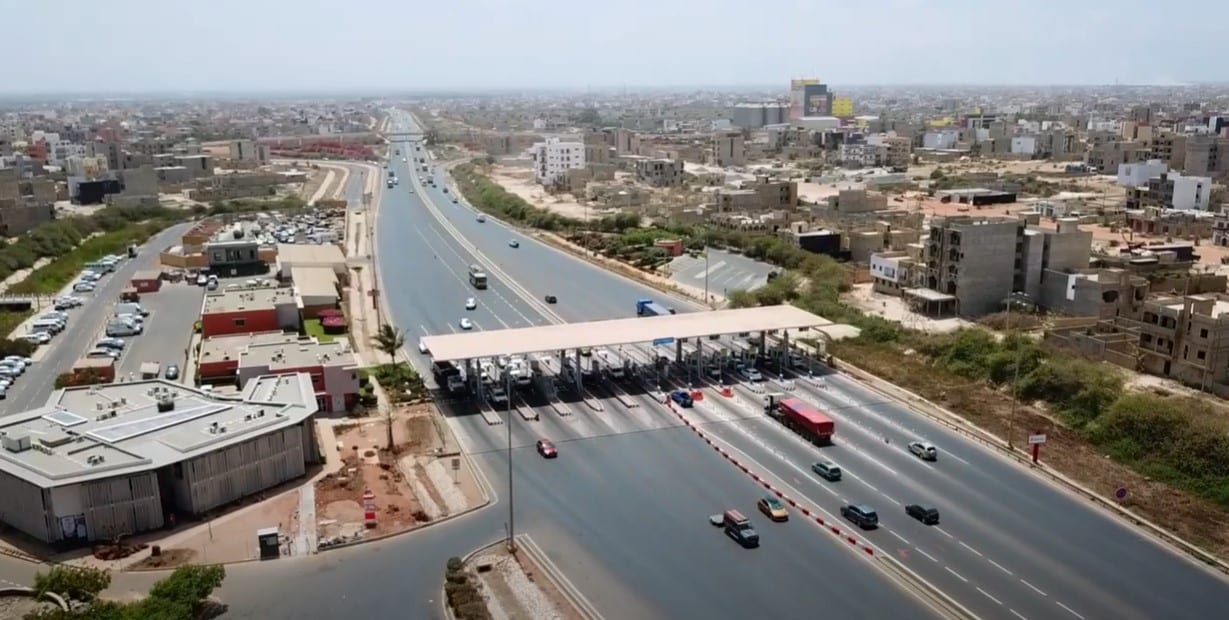 EAIF PROVIDES EUR 46 MILLION TO BRING STRATEGIC ROAD, A1 MOTORWAY, "AUTOROUTE DE L'AVENIR", TO FINANCIAL CLOSE
London, 27 September 2023 – The Emerging Africa Infrastructure Fund (EAIF), a Private Infrastructure Development Group (PIDG) company, has committed EUR 46 million for the extension and upgrade of the A1 motorway, the first toll motorway in Western Africa built under a public-private partnership (PPP) scheme. The project aims to boost economic productivity, progress the flow of passengers and goods, and better connect strategic economic hubs within the Dakar region.
The A1 toll road has become one of the country's most important economic routes and connects Dakar, the Senegalese capital, to the Blaise Diagne International Airport. The asset, majority owned by Eiffage SA, which has a near 100-year history of developing essential infrastructure in Senegal through its local subsidiary, and the Government of Senegal.
The total debt financing of EUR 140m will support expanding the road's capacity with new lanes, off-ramps, and interchanges, whilst increasing capacity at toll plazas with non-stopping express lanes. Development works will also include system upgrades that will allow all buildings and lamp posts to run on solar energy, enable full coverage by video surveillance, and improve signalling and messaging boards – all critical to strengthening road safety.
Upon completion of the works the developments will reduce congestion, maximise efficiency and productivity, and lead to overall improved services for all users. The project will help manage traffic flows and reduce fuel use, lowering vehicle emissions.
EAIF acted as co-arranger alongside local and regional financial institutions, including West Africa Development Bank (BOAD) and CBAO, a subsidiary of Attijariwafa Bank, that provided debt financing in West African Francs. This demonstrates EAIF's convening power and ability to support African financial institutions to back critical infrastructure that enhances mobility and accelerates local businesses' access to markets.
Autoroute de L'Avenir connects Dakar, home to nearly a quarter of Senegal's population, to surrounding economic zones, including routes to the seaport – West Africa's third busiest. The motorway upgrade enables more efficient traffic management and is critical to absorbing the forecasted flow of passengers and goods driven by greater urbanisation in a country poised to achieve one the fastest GDP growth in Africa over the next decade.
Commenting on the transaction, Xavier Idier, Managing Director at Eiffage/SECAA, said, "We are delighted to have reached financial close on this landmark project, which reaffirms our commitment to Senegal, where we have been operating for nearly a century. Our collaboration with EAIF has been crucial in achieving this milestone and supporting the second investment program on this strategic road."
Commenting on EAIF's transaction, Tidiane Doucoure, Director at Ninety One, the fund manager of the Emerging Africa Infrastructure Fund, said, "We are thrilled to partner with Eiffage, a world-class toll-road operator with a long and historic presence in Senegal. The A1 motorway has been operating for a decade and represents one of the most important roads in the country. The asset has a solid track-record that has proven its resilience. We are very pleased to support the next phase of major investments that will improve conditions for Senegalese users, boost productivity and economic growth in the capital city and surroundings economic hubs".