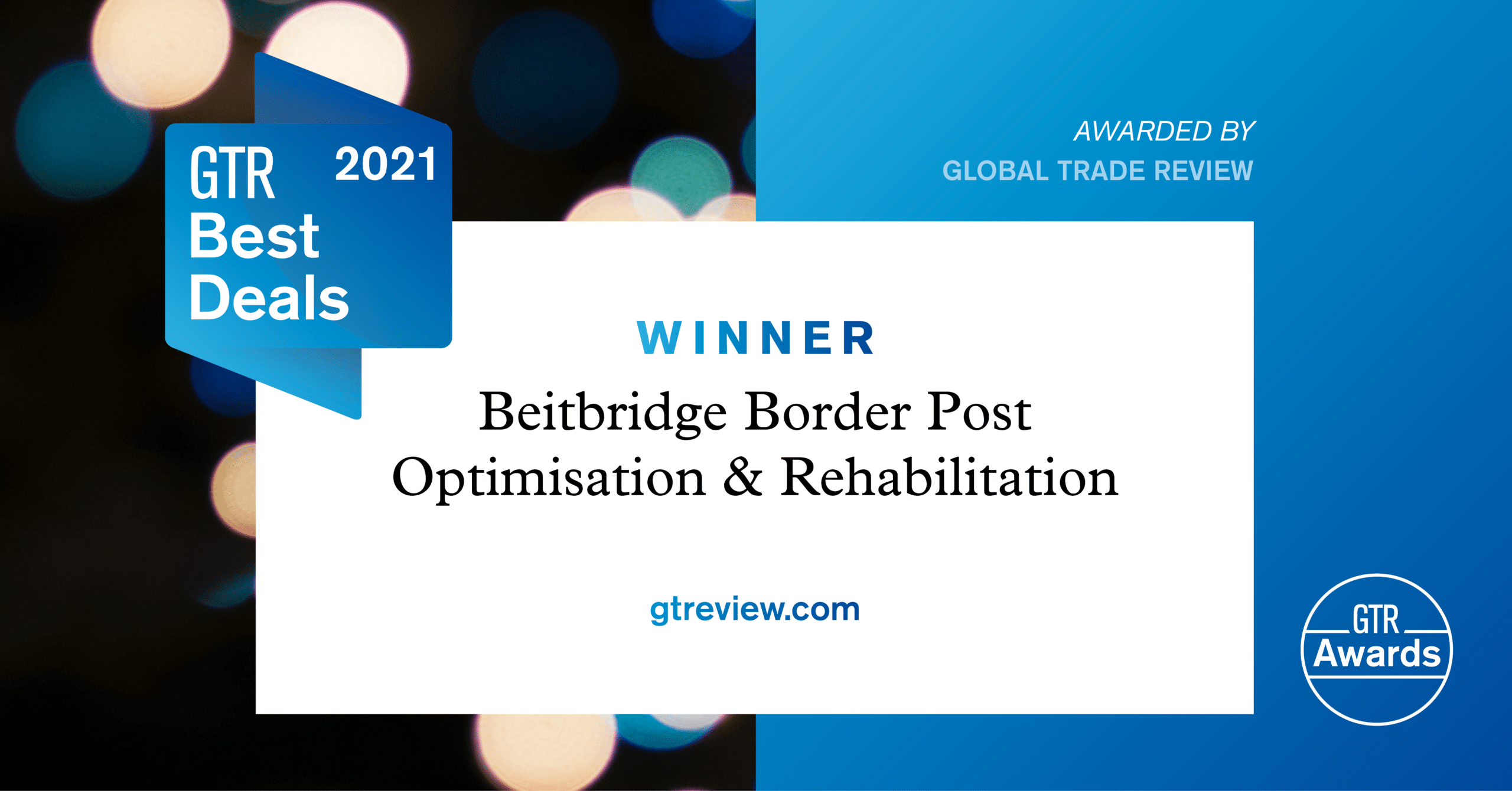 Global Trade Review names EAIF-backed Zimborders project as a global Deal of the Year Award for "Optimism and Rehabilitation"
On 19th April, Global Trade  Review (GTR) magazine announced that had named the Zimborders project that is revitalising the Beitbridge border post between Zimbabwe and South Africa as one of its eleven worldwide "Deals of the Year". PIDG company, the Emerging Africa Infrastructure Fund has loaned Zimborders, the private sector company that won the competition to regenerate and manage the Beitbridge facility,  US$43.7 million of the US$296 million capital cost of the project. The award citation reads: Winner: Beitbridge Border Post Optimism and Rehabilitation.
Alastair Herbertson at Ninety One, EAIF's manager, says:
"I want to congratulate Zimborders on winning a GTR Deal of the Year award. It is recognition of the professionalism, tenacity and commitment of the company, the Government of Zimbabwe and all the finance teams involved. Above all, it recognises the vital importance of the Beitbridge border post to the economic development and post-Covid recovery of Zimbabwe and surrounding countries. The citation for optimism and rehabilitation is accurate, uplifting and a credit to Zimbabwe."
Other winners of GTR' Deal of the Year accolade include such transformative infrastructure projects as the Cairo Monorail; the £2.4 billion Dogger Bank wind farm in the UK; Enel Green Power supply chain programme in Mexico; Northvolt, a Swedish start up developing lithium ion batteries and Tanzania Standard Gauge Railway, where Standard Chartered led the financing of 550-kilometre section of the new railway.
The Zimborders project has been compared with renewing every building, road, car park, office, emergency services facility and all the electricity, water, sewerage, telecommunications and IT infrastructure of a small town. The benefits of the new facility will be felt not only in Zimbabwe and South Africa, but also in those countries that import and export goods across Africa using the Beitbridge border post to access the strategic roads network serving North, South and West Africa.
To read more about EAIF's work on the Zimborders project visit:
PIDG company Emerging Africa Infrastructure Fund fills funding gap in Zimbabwe border crossing project set to stimulate trade and business investment