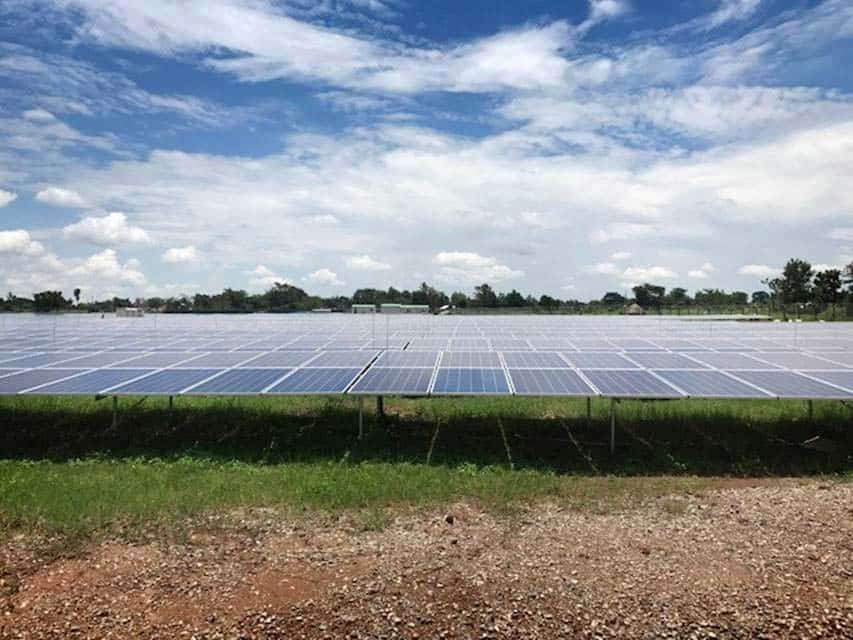 Lender to Tororo solar north farm says Uganda's renewable energy policies "African power success story."
The Chairman of the Emerging Africa Infrastructure Fund (EAIF), which is part of the Private Infrastructure Development Group, has praised Uganda's commitment to developing renewable energy. In a syndicate led by the Dutch development finance bank, FMO, EAIF and FMO loaned US$14.7 million to Building Energy, the developers and operators of the US$19.6 million Tororo Solar North facility that was formally opened on16th October.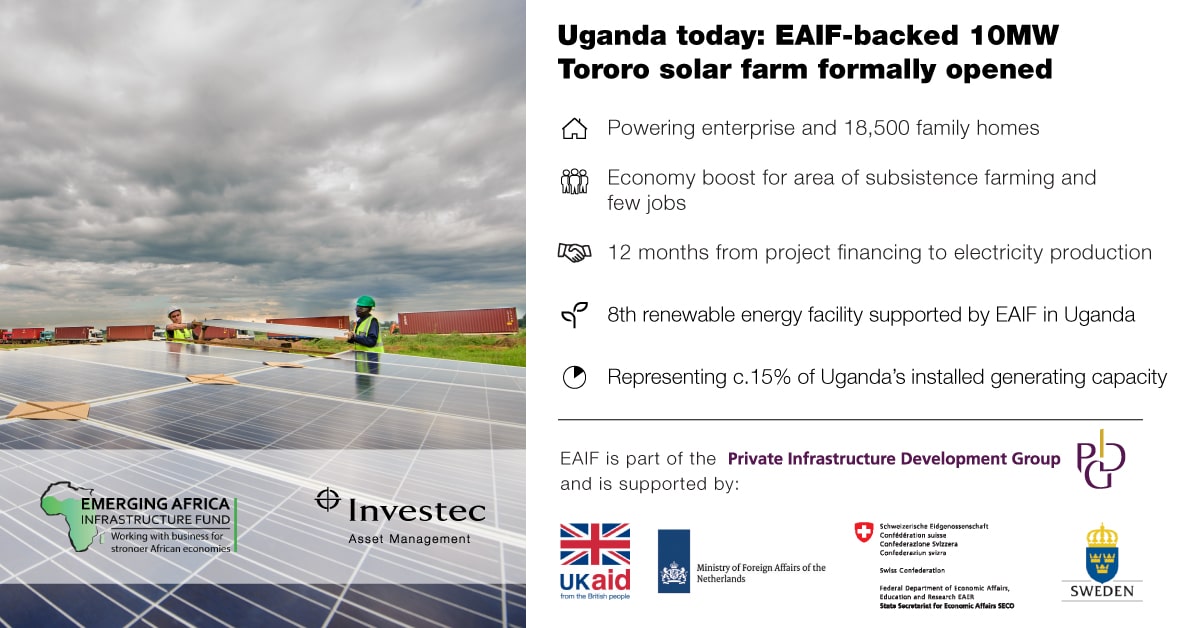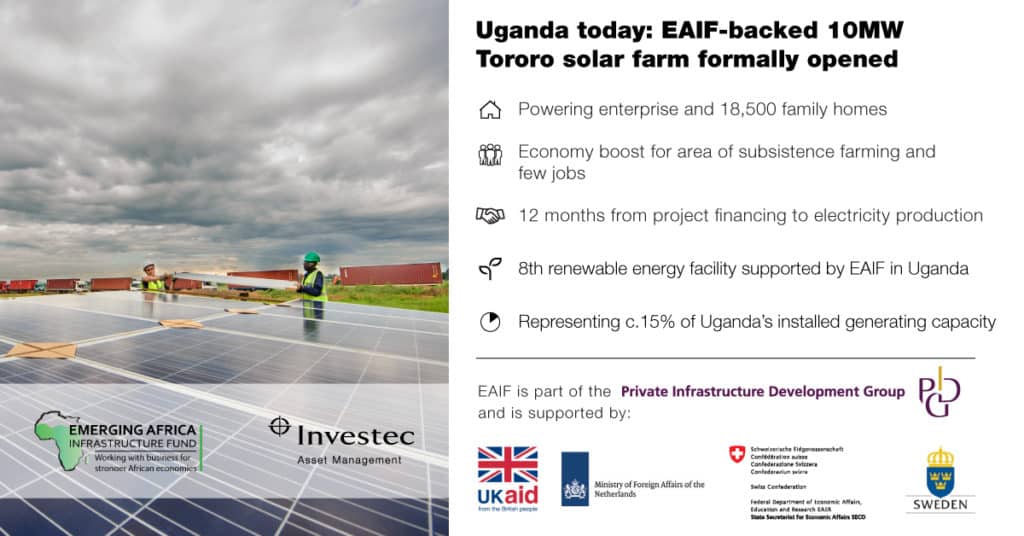 1.2km of new transmission infrastructure has been built to link the 10MW solar farm to the electricity grid. The equivalent of 36,000 people in the area will be served by the new plant.
Speaking when he attended the opening event at the plant, EAIF Chairman, David White, said,
"Uganda's commitment to renewable and more efficient energy is making it an African power success story. EAIF's investments in the sector help bring jobs, stimulates economic development and helps combat poverty."
Tororo is the eighth renewable electricity generating plant EAIF has backed in Uganda in recent years. In total, the facilities are estimated to account for some 15% of Uganda's installed generating capacity.
Jobs created
Tororo is a rural area of traditional subsistence farming and high unemployment.150 mainly local people were employed in building the solar farm. Four permanent jobs have been created at the facility.
The coming of clean, reliable and more affordable electricity to the region has the potential to transform its economic prospects. Small businesses can open for extended periods. Schools and hospitals are able to use the hours of darkness more productively and reduce use of expensive and polluting diesel generators.
Ready access to power is an essential component in building a digital economy that creates new business opportunities and delivers more productive public services.
Electricity brings the prospect of industrial-scale farming and food processing plants. The tourism and hospitality industries can have greater confidence in future investment because energy security makes investment more viable.
The Tororo Solar North facility also benefits from the "GETFiT" programme of tariff supports. GETFiT, which is funded by a number of European governments and the European Union, operates at various renewable electricity facilities across Uganda. Its funding brings down the average cost of power to consumers.
Solar and hydro power stations in Uganda, like all of those supported by EAIF, bring clean, pollution-free, electricity generation that has global and local benefits. Keeping down greenhouse gasses contributes to fighting global warming. At local level, the benefits include keeping rural Uganda's air fresh and clean, making it healthier for people and a more attractive environment for investment. The Tororo project is estimated to save 218,400 tonnes of CO2 over its life span.
Speed and history
David White says EAIF has become one of Africa's commercial debt providers of choice to the energy sector.
"Just 12 months from signing the debt finance agreement, the plant is fully productive and contributing to Uganda's economic development. Congratulations are due to Building Energy, to EAIF's fund managers, Investec Asset Management, and to our friends and colleagues at the Dutch development bank, FMO.

"The speed at which this project has been financed and built shows that the infrastructure foundations for economic progress can be now be laid faster than at any time in history."
In addition to energy projects, EAIF is able to support eight sectors in total, the most prominent being energy, telecommunications & digital, transport, gas transmission and supply infrastructure, infrastructure components and water and waste treatment. EAIF has supported infrastructure projects in 21 sub-Saharan countries, invested US$1.4 billion and attracted a further US$10 billion in private investment.
PIDG powers US$31.4 billion private sector investment into Africa
Since 2002, PIDG has mobilised $31.4bn from private sector investors and development finance institutions, supported 154 infrastructure projects to financial close and provided 222 million people with access to new or improved infrastructure