Private Infrastructure Development Group company Emerging Africa Infrastructure Fund releases three minute animated film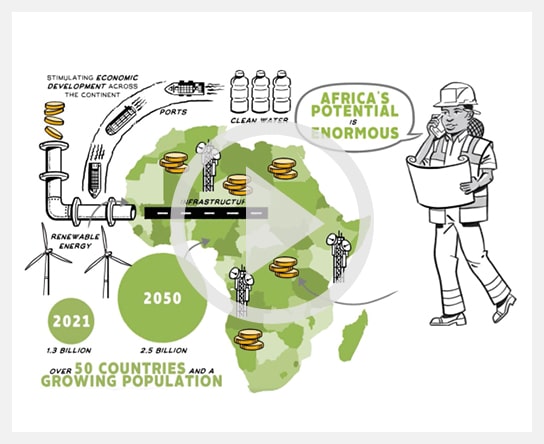 A three minute animated film has been released that explains what the Emerging Africa Infrastructure Fund (EAIF) does, how it is funded, its track record and the benefits it offers infrastructure developers in Africa. EAIF, a member of the Private Infrastructure Development Group (PIDG) provides long-term debt to mainly private infrastructure projects in Africa.  It has invested US$1.9 billion across the continent, which has mobilised a total of US$23.5 billion of capital into infrastructure projects in 9 sectors, including energy generation, digital communications, transport and logistics, water treatment and supply and affordable housing. 84 completed projects have been supported, bringing multiple benefits to over 147 million people.
EAIF, which marks its 20th year in business in 2022, will use the film in presentations to potential clients and investors and to explain the EAIF business model at conferences, seminars and similar events. The film is available to see at www.eaif.com.
Martijn Proos, a Director at EAIF's managers, Ninety One, says;
"We have busy, sophisticated and educated audiences, so we wanted a film that encapsulated the essence of EAIF quickly and in a stimulating, engaging, informative and memorable way. Our film delivers a huge amount of factual information. It also explains our job, structure, business model, values , objectives and track record of success. It has been very well received and is a powerful new tool in our marketing armoury."
EAIF's film was made using the "whiteboard animation" technique, a process pioneered by the film's producer's, Cognitive Media. The Cognitive approach shows the hand of the artist drawing people, buildings and images in tandem with a voiceover. The drawings, images and voice are brought together to tell a compelling story. The film was voiced by Afro British actor and voice over artist, Beryl Munoko, hose roots are in East African.
A version of the film with a French language voice over is currently in production.
For further information contact;
EAIF Martin Roche: martinroche55@gmail.com +44 (0)771 574 9621
PIDG Cecilie Sorhus: Cecilie.Sorhus@pidg.org +44 (0)7917 302724
Ninety One: Kotie Basson: kotie.basson@investecmail.com +27 21 416 1812
About EAIF
The Emerging Africa Infrastructure Fund provides a variety of debt products to infrastructure projects promoted mainly by private sector businesses in Africa and parts of the Levant. The Fund helps create the infrastructure framework that is essential to sustained economic stability, business confidence, job creation and poverty reduction.  It has to date supported over 80 completed infrastructure projects across nine sectors in over 20 African countries. EAIF is part of PIDG. EAIF was established and substantially funded by the governments of the United Kingdom, The Netherlands, Switzerland, and Sweden. It raises its debt capital from public and private sources, including Allianz, the global insurance and financial services company; Standard Chartered Bank; the African Development Bank; the German development finance institution, KFW,and FMO, the Dutch development bank. EAIF is managed by Ninety One.
About PIDG
The Private Infrastructure Development Group (PIDG) is an innovative infrastructure project developer and investor which mobilises private investment in sustainable and inclusive infrastructure in sub-Saharan Africa and south and south-east Asia. PIDG investments promote socio-economic development within a just transition to net zero emissions, combat poverty and contribute to the Sustainable Development Goals (SDGs). PIDG delivers its ambition in line with its values of opportunity, accountability, safety, integrity and impact. Since 2002, PIDG has supported 171 infrastructure projects to financial close which provided an estimated 217 million people with access to new or improved infrastructure. PIDG is funded by the governments of the United Kingdom, the Netherlands, Switzerland, Australia, Sweden, Germany and the IFC. PIDG TA can provide technical assistance and capital grants to the PIDG companies to meet a range of needs associated with an infrastructure project's life-cycle. PIDG TA can also provide up-front viability gap funding grants to support PIDG projects that require concessional funding to make a project with strong development impact financeable.
About Ninety One 
Ninety One is one of the largest third party investors in private credit, public equity and sovereign debt across the African continent. The Emerging Africa Infrastructure Fund (EAIF) is managed by and fully integrated into Ninety One's African investment platform. Ninety One manages the entire process on behalf of the EAIF. It markets the Fund, seeks projects, evaluates loan applications, including due diligence, manages transaction administration and monitors the loan portfolio. Since May 2016, when it was awarded the management mandate, Ninety One and its EAIF team have closed over 20 infrastructure transactions with a capital value of USD 650m.  The team also led EAIF's last round of fundraising, raising US$385 million, including US$100 million from Allianz Global Investors and US$50 million from Standard Chartered, a long-standing lender to EAIF.
Ninety One is  an independent, active global asset manager listed on the London and Johannesburg stock exchanges. Established in South Africa in 1991, as Investec Asset Management, the firm was a pioneer in emerging markets in Africa. In 2020, almost three decades of organic growth later, the firm de-merged from Investec Group and became Ninety One. Today, Ninety One offers distinctive, active strategies across equities, fixed income, multi-asset and alternative investments to institutions, advisors and individual investors around the world.