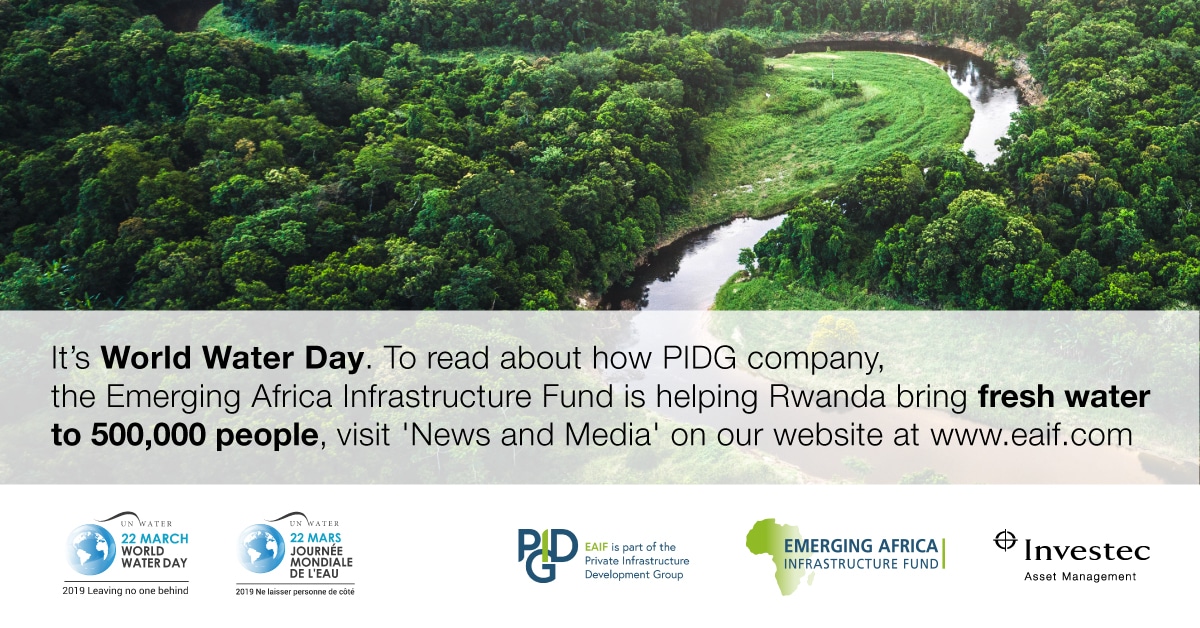 World Water Day sees construction on track at multi-award-winning Rwandan bulk water public private partnership
The Water and Sanitation Corporation of Rwanda (WASAC) is the body primarily responsible for delivering the Rwandan government's aim of 100% water availability. Fundamental to that ambition is the Kigali Bulk Water Supply Project (KBW), one of the first public/private partnership water supply and treatment projects to be undertaken in sub-Saharan Africa.
Today, on World Water Day, I am able to report that the work at Kigali Water Limited has borne great fruit. Construction of the new water facility is well under way and on track for completion in 2020.
The Emerging Africa Infrastructure Fund (EAIF) is part of The Private Infrastructure Development Group (PIDG). EAIF arranged the debt finance for the project, which was awarded to Kigali Water Limited (KWL), a Rwandan subsidiary of Metito, one of the world's largest water management and allied infrastructure companies. KWL represents sub-Saharan Africa's largest known build, operate and supply water deal.
Delivering up to 40 million litres of water a day, the new plant is expected to grow Kigali's existing water capacity by a third, representing a significant addition to the city's freshwater resources. Some 500,000 of Kigali's population of one million will benefit directly from the new facility.
EAIF loaned US$19 million of senior debt and US$2.6 million of junior debt to KWL. The African Development Bank provided another US$19 million of senior debt; with all loans being for an 18-year term. The lenders are covering US$40.6 million of the capital cost of the US$60.8 million project. The balance in equity finance was provided by Metito.
Since 2017, the financing of the Kigali project has won five prestigious awards from leading project finance and infrastructure media groups.
PIDG company collaboration 
In addition to the finance arranged and provided by EAIF, the project benefited from a US$6.25 million grant from PIDG's Technical Assistance Facility. The grant was a significant element in the creation of the financial package for KWL, as was the role as a third PIDG company, DevCo, which provided critical support at the project evaluation and business modelling stage.
Like all PIDG companies, The Emerging Africa Infrastructure Fund plays a pivotal role in bringing to life infrastructure projects that have the potential to stimulate economic development, create direct and indirect jobs, improve technical and management skills in the countries in which it operates and help combat poverty.
EAIF projects are always strategically important to national or regional economic development, which is why it and PIDG support the UN's Sustainable Development Goals.
Collaborative work
The KWL project clearly demonstrates the value of using "blended finance" – with investment from both public and private sources. PIDG pioneered the concept of blended finance and has become a world-leading authority on mobilising public and private capital in emerging economies.
For PIDG CEO Philippe Valahu,  the collaborative work of PIDG companies allows for an integrated view of infrastructure project financing that results in successful outcomes along the entire project life cycle.
"We have a suite of products that cover the capital structure and that can work collaboratively to offer solutions – and a new strategy that will allow us to replicate what we have been doing at an even greater scale," he says.
PIDG's new strategy, launched in January 2019, focusses on identifying market failures in infrastructure financing and finding replicable ways to address them to deliver pioneering infrastructure at scale and in ways that are replicable, affordable and transformative.
From an EAIF and PIDG perspective, the KWL project had all the right components required for our involvement. Its social and economic development potential spoke for itself. At the most basic of levels clean water is at the heart of fighting and preventing disease and promoting public hygiene.. One of the social benefits of modern water facilities is the reduction and sometimes complete elimination of the daily drudgery women and girls face when carrying great weights of water, often over significant distances.
Metito's sixty years of worldwide water industry experience across a full spectrum of water and waste management infrastructure and project finance solutions was a core strength of the Kigali Water proposition.
On completion, the plant will employ around 60 permanent staff, with at least 30% women.
In his company's recent Sustainability Report, Metito's CEO and Chairman, Mutaz Ghandour, said,
"The Kigali Bulk Water project serves as a template for similar upcoming projects in sub-Saharan Africa and plays a crucial role in infrastructure development in the region."
The Emerging Africa Infrastructure Fund is managed by Investec Asset Management.