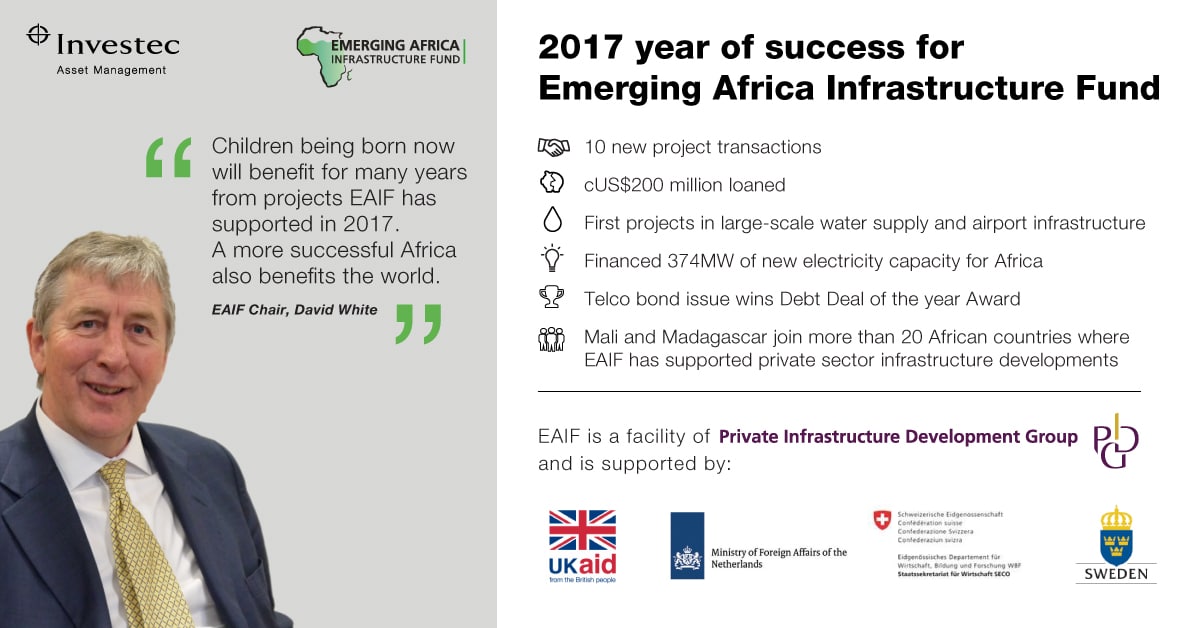 A year of firsts for EAIF


Strong performance, new countries and new sectors make 2017 year of success for the Emerging Africa Infrastructure Fund
The Emerging Africa Infrastructure Fund (EAIF) ended 2017 with ten transactions signed and all its key performance indicators achieved. The new transactions represent cUS$200 million in loan commitments, bringing EAIF's committed loan portfolio to US$750 million. The Fund is rapidly approaching having 45 active projects in its portfolio, making it one of the leading suppliers of debt finance to private sector infrastructure projects in sub-Saharan Africa.
2017 was EAIF's fifteenth year of operations. Its core strategy continued to be focused mainly on fragile states where traditional lenders to the private sector don't operate and where capital from the development finance sector is scarce.
EAIF is a company of the Private Infrastructure Development Group (PIDG). PIDG is funded by donors from seven countries (UK, Switzerland, Australia, Norway, Sweden, Netherlands, Germany) and the World Bank Group. In the case of EAIF, funding comes from the governments of the UK, The Netherlands, Sweden and Switzerland, as well as private sector banks, the German development finance institution, KfW and its Dutch equivalent, FMO.
EAIF has been managed by Investec Asset Management (IAM) since May 2016. Nazmeera Moola, Head of EAIF at IAM, said "In 2017, we were able to demonstrate the tangible, measurable impact which can be achieved through EAIF's work. These achievements show that EAIF helped to accelerate economic development in countries and sectors which are new to us, while taking on new ventures in countries in which we have long-standing projects. We look forward to building on the success of the last 15 years as we move forward, reinforcing EAIF's reputation as nimble, committed, innovative and knowledgeable."
First water and airport projects
During 2017, EAIF added Madagascar and Mali to the list of countries it has projects in. As Mandated Lead Arranger, it led the debt financing for the US$60.8 million water treatment facility for Kigali, Rwanda, to be owned, built and managed by Kigali Water Limited, a subsidiary of Metito. Metito has built around 3,000 water treatment plants worldwide. Speaking at the time of the project announcement, Chairman and CEO of Metito, Mutaz Ghandour, said, "We are delighted to have had the support from EAIF, a first-class professional lender."
Kigali Water is EAIF's first investment in a large-scale water treatment and supply facility. The new plant will deliver around 40 million liters a day; about a third of the capital city's needs.
In Madagascar, EAIF made its first loan in the airport infrastructure sector when it provided €25 million to Ravinala Airports. Ravinala is spending €215 million upgrading and expanding two airports. Passenger capacity will double at Antananarivo Airport, which serves Madagascar's capital city. Improvements to the runway at Antananarivo will open up the airport to wide-bodied aircraft, making the country more attractive to international airlines. In the North of the country, at Nosy Be Airport, which is one of Madagascar's most popular tourism airports, capacity will double to accommodate 500,000 passengers annually.
In Mali, EAIF supported the first two Independent Power Producers (IPPs) in the country. Mali is one of the world's 25 poorest countries. Some 36% of Malians live below the poverty
line and 30% of the working age population is unemployed. The projects themselves will bring new jobs in construction and operation and help stimulate the employment market as businesses see opportunities in Mali's bigger and more reliable energy supply sector.
Albatros Energie Mali (AEM) is building a €123.1 million 90MW oil-fired power station. Construction is on schedule to be completed in late 2018. EAIF loaned AEM a €5.8 million conventional loan and a €3.9 million Sha'ria financing facility. It was the Fund's first Sha'ria financing facility. The second IPP supported in Mali is the €77 million, 50MW, Akuo Kita solar energy plant. EAIF, which provided an €18 million loan to the project, was the Mandated Lead Arranger, along with the Banque Ouest Africaine de Dévelopement (BOAD). Akuo Kita was the first time EAIF has acted as Mandated Lead Arranger in French-speaking Africa.
The Kita project includes transmission infrastructure connecting to the national electricity grid. It will be the largest solar farm yet built in West Africa. Akuo Kita Solar will sell its power to Electricité du Mali SA, the national utility. It is Akuo Energy's first African power project.
374MW of new power financed in 2017
EAIF is now well-established as an experienced and skilled provider of debt to solar and renewable power projects. In 2017 alone, it provided finance to independent power producers that will bring 90MW of new solar power to Africa. In total, the Fund financed 374MW of power across solar, hydro and fossil fuel in 2017.
EAIF Chairman David White says the Fund's success in 2017 is the best possible way of celebrating its 15th year of supporting good businesses, stimulating economic development and helping African countries become more stable and prosperous.
"Most infrastructure has a life of at least 20 years, which is a generation. Children being born now will benefit for many years from projects EAIF has supported in 2017. All those involved with EAIF can have pride and satisfaction that the work they do contributes to the stability and economic progress of countries across Africa. A more peaceful and successful Africa also benefits the world."
Other projects in 2017
EAIF backed the refinancing of the Bugoye hydro electricity plant in Uganda. The funds will be used to renew some of the plant and invest in new greenfield hydro schemes in other parts of the country. In Senegal, EAIF invested €6.6 million to facilitate the expansion of the Tobene ll power station and in Mozambique it loaned US$16.9 million to another renewable energy project, Central Solar de Mocuba. One of Mozambique's newest and strategically most important power stations was refinanced with the support of the Fund. EAIF signed a participation agreement with the International Finance Corporation to provide a US$21million loan of 13.5 years to the power station's owner and operator, Central Termica de Ressano Garcia S.A.
Africa's telecoms sector benefited from EAIF expertise in 2017. It was an anchor investor in the US$600 million bond issue by Helios Towers Africa. The African Banker Magazine conferred its Debt Deal of the Year Award on the Helios Towers bond issue.
The Fund increased its lending to Eleme Fertilizer and Chemicals Ltd. Its fertilizer plant at Port Harcourt, Nigeria is now in production. It will eventually provide 1.4 million tonnes of fertilizer a year to Africa's farmers and growers.
The Emerging Africa Infrastructure Fund is funded by: