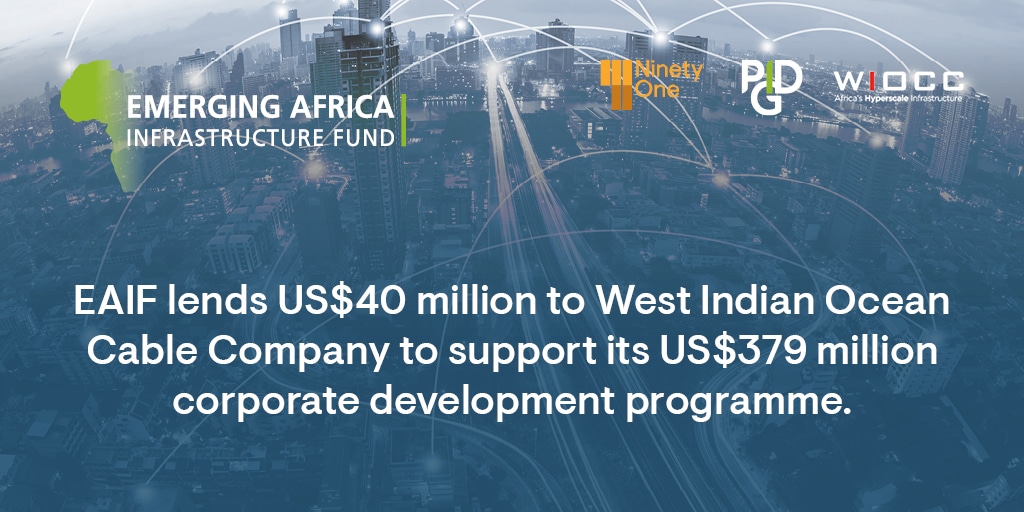 Economic development benefits of West Indian Ocean Cable Co investment will spread across the continent
Estimated to hold 20% of the African connectivity market, the West Indian Ocean Cable Company (WIOOC) provides end-to-end international connectivity within and around the African continent. It operates a fully integrated submarine and terrestrial fibre-optic network that extends to 55,000km of terrestrial fibre interconnecting 550 locations across Africa.

On 25th September 2020 it reached financial close on a debt package of US$100 million that will be part of the company's US$379 million corporate development programme. EAIF contributed US$40 million to debt package, which was arranged by the French development finance institution, Proparco.
The announcement of EAIF's support for WIOCC came at the height of the global Coronavirus crisis. Growing Africa's communications infrastructure is vital to the continent's long-term economic development and assisting its recovery from the global downturn caused by Covid-19. Adding to Africa's digital infrastructure capacity will stimulate enterprise and employment, deliver faster and more efficient communications and give global investors more reasons to look to Africa.
WIOOC says the new investment will grow its customer base, create a more competitive market and contribute to downward pressure on wholesale and retail prices. It is expected to support more than 200 direct jobs over the next 5 years. WIOCC plans to develop vocational IT training for women, to achieve a more gender-balanced workforce.
EAIF's loan contributes towards achieving two of the most critical Sustainable Development Goals (SDGs); SDG 8 is Decent Work and Economic Growth and SDG 9 is Industry, innovation and infrastructure. Both SDGs are fundamental to building more resilient and stable economies.
WIOOC's transaction was the third African telecommunications project EAIF has backed in 2020.