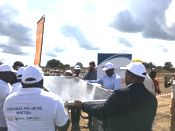 US$76 million solar plant to accelerate Mozambique's economic development
The US$76 million Central Solar de Mocuba (CESOM) power plant will be a core element in the Mozambique government's strategy of incentivising the creation of small and medium-sized businesses in the mainly rural Mocuba area of the country. Construction of the 40MW facility began in June 2018. Power is expected to flow from the plant towards the end of 2019.
Accelerating economic development is central to unlocking Mozambique's potential and reducing poverty. Greater availability of electricity should act as a stimulus for investment in higher added value activities, particularly in country areas where subsistence farming remains the core economic activity. Building a sustainable economy is vital to Mozambique's 26 million people and particularly to the 45% of the population aged under 15. The country's aim is to widen and deepen its economy to provide the education, health care and jobs needed to meet the needs of its people and economy.
CESOM will add some 4.8% to Mozambique's electricity capacity, though about 40% of the capacity of its Northern grid. 335 locally engaged people are building the plant and further 13 people will have jobs when it is operational.
CESOM's owners are Scatec Solar, an established independent power producer with a portfolio of 322 MW in Africa, Europe and Central America; Electricidade de Mozambique (EDM), the national electricity utility and Norfund, the Norwegian Investment Fund. CESOM has agreed a long-term supply arrangement with EDM.
Project costs at Mocuba are US$ 76 million, funded by equity of US$ 14 million, a Viability Gap Funding grant of US$7 million from the Technical Assistance Facility of the PIDG, and project debt of US$ 55 million. IFC provided US$ 19 million as an "A" loan together with a concessional loan from the Climate Investment Fund of the same size, and a syndicated "B" loan of US$ 17 million (with a 17-year term) from EAIF. The IFC "A" loan, the EAIF "B" loan and the Climate Investment Fund loan are all Senior Debt.