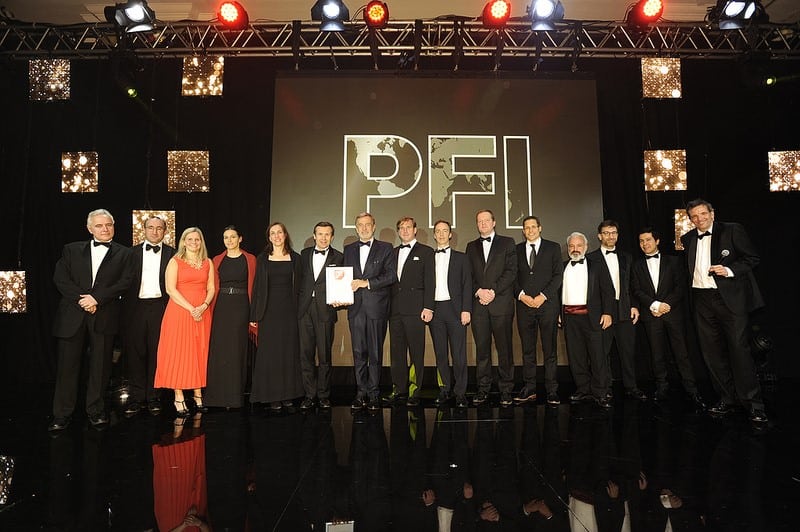 Prestigious Thomson Reuters award for Madagascar airport infrastructure project backed by EAIF


Project Finance International, the prestigious Thomson Reuters global infrastructure magazine, has awarded its Middle East and Africa region 2017 Transport Deal of the Year Award to Ravinala Airports. In 2017, The Emerging Africa Infrastructure Fund (EAIF) loaned the company €25 million, over a 16-year term, in support of a €215 million project to upgrade and expand two of Madagascar's most important airports.
The award was announced at the Park Lane Hilton Hotel, London on Wednesday 7th February 2018.
EAIF was set up 15 years ago and has helped finance some 70 private sector projects in over 20 African countries. At the end of 2016, EAIF had invested US$1,17 billion, which attracted US$10.12 billion in private sector infrastructure finance into Africa. The Madagascar project is the first airport infrastructure development the Fund has backed.
Commenting on the award, Mr David White, Chairman of EAIF, said;
"2017 was an outstanding year for EAIF. Improving the competitiveness and efficiency of Madagascar's key airport infrastructure will be a major boost to the country's exporting businesses and its tourism sector. My congratulations to Ravinala Airports, to the other institutions in the project funding group and particularly to EAIF's fund manager, Investec Asset Management. Being associated with this award is further endorsement of our business model and our ability to mobilise public and private funds to wide and lasting benefit in Africa."
EAIF is a member of the Private Infrastructure Development Group (PIDG). Seven governments (and The World Bank) currently contribute funds to PIDG. In the case of EAIF, support comes from the governments of the UK, The Netherlands, Sweden and Switzerland, as well as private sector banks, the German development finance institution, KfW and its Dutch equivalent, FMO.